Thank you for your interest in the campaign!
Here are some things you can do to help out:
Yard Signs
Yard signs are here! If you want to host one, email me at ryan@iheartryan.com.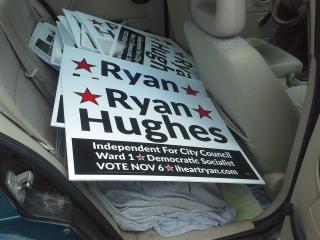 Door-knocking
I'll be canvassing the neighborhoods regularly, knocking on doors. If you'd like to help out, you can join the mailing list, where I will be sending out the canvassing scheules weekly.
Host a Meet and Greet
I'd love to meet with you and your neighbors! If you're part of a neighborhood organization, book club, or any group of friends and neighbors, have me over and I'll bring some good hummus and some good ideas. If you're not part of any of these organizations, invite me to your house and invite your neighbors too.
Donate
You can donate to the campaign by making a check out to "Ryan Hughes for City Council" and mailing it to me at 214 Charles St, Ann Arbor, MI, 48103.
Election law requires me to record your name, address, occupation, employer, and employer's address.
I'll set up an online donation mechanism as soon as I can.
Join the mailing list
You can sign up to receive an approximately-weekly email which will contain further ideas of how you can get involved, and events to attend. There is also a lower-traffic email list which will only send out a couple of election reminder emails.
Sign up for either one here: https://lists.iheartryan.com/