Thank you for your interest in the campaign!
Here are some things you can do to help out:
Host a Potluck/Coffee Hour/Salon
The first potluck/coffee hour/salon is scheduled for
Sunday, June 24,
3pm-6pm,
at 1780 David Ct, Ann Arbor, MI
It's right next to Leslie Science and Nature Center. I'll bring vegan food, lawn games, and ideas.
Sign up to host a potluck/coffee hour/salon at your house and invite your neighbors! We'll talk about the issues! To host an event, email me at ryan@iheartryan.com.
Yard Signs
Yard signs are here! If you want to host one, email me at ryan@iheartryan.com.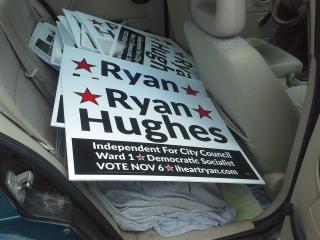 Join the mailing list
You can sign up to receive an approximately-weekly email which will contain further ideas of how you can get involved, and events to attend. There is also a lower-traffic email list which will only send out a couple of election reminder emails.
Sign up for either one here: https://lists.iheartryan.com/
Fourth of July Parade
We are registered to march in the Ann Arbor Jaycees Fourth of July Parade. Plan to march with us!