Hello, my name is Ryan Hughes. I think there is a lot more that the city could be doing to make sure that there is a place in Ann Arbor for everybody who wants to live here. I decided to run for city council because I wanted to make sure there was someone saying new things about such ideas as:
Some of the ideas I have may be outside the acceptable political spectrum, but I want to present my ideas and let the voters make the decision. Compromises are an important tactic in negotiating for what you want, but here, I want to show you the types of things I will be aiming for. If there's one thing I took away from the Bernie Sanders campaign, it is that people are ready to vote for candidates who have radical, inspiring ideas.
Therefore, I invite you to read my ideas and see the way I think.
Note that I am running as an Independent, and therefore, I will not be on the August 7 primary ballot. Instead, I will be on the November 6 general election ballot.
About Myself
I have told you my ideas. But who am I?
I created The Michigan Organizer, an online events calendar that keeps track of the activist work being done by the amazing community of activists we have in Michigan. After Donald Trump won the election, I could not sleep until I had done something about it, and this was the first thing I did.
I am a computer programmer. My day job is with the University of Michigan. I also work on open-source projects in my spare time whenever I can. Here's what I was working on most recently: a client-side encryption plugin for Roundcube webmail.
Since 2005, I have been a volunteer DJ on 88.3 WCBN-FM. I do a show on Wednesday mornings, 6-9am, where I tend to feature music made by women and transgender/gender-nonconforming individuals. You can take a gander at my playlists to see what kinds of things I play.
Since 2007, I have written and performed marionnette shows with the Dreamland Theater puppet troupe.
My housemates and I all lived in co-op housing at some point, and we maintain the lifestyle, cooking fresh meals from scratch. You'll see me at the farmer's market every Saturday, all year 'round.
I am vegan because I believe it lessens my impact on climate change, and because I support animal rights.
Speaking of which…
Juliet
You may have seen my #1 campaign volunteer out with me. I adopted Juliet through the Motor City Greyhound Rescue. She is a big fan of being petted, and of meeting people and dogs.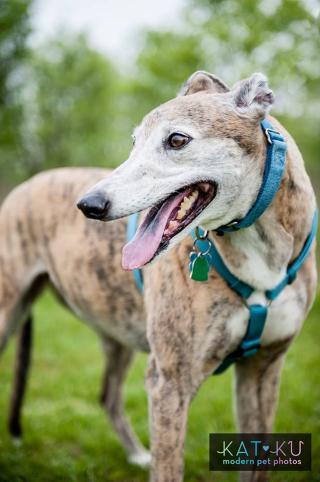 I also put a picture of her on Wikipedia. You can find her relaxing on the couch if you look up Greyhounds.